Sitechecker Review – improve the positioning
SITECHECKER
This pack of software offers you the possibility of getting a detailed SEO report with a customized checklist to improve your website and get to the top of Google. It detects all technical SEO problems , it system them and makes you get more organic traffic, satisfied users and higher sales.
Site scan
With the help of  site scan you can fix all technical errors, review the structure of the website and the target pages. At the same time you can help Google understand the content of your website and get better positioning in the SERP. With this simple tool make your sales pages faster, improve your navigation links and get more conversions and sales.  Those are all benefits for a potential customer.
Also if you used a CMS to create the site, Sitechecker can scan it and control:
The HTTP situation for each URL of the website and check where links drive your traffic.
Control the most important metatags and if they are well structured.
Make the speed-test for each page to understand which files, images or code should be optimized to improve page speed.
Control the internal Page Rank.
It creates the tree structure of the site. It helps to understand what changes you should make in your internal link to improve positioning.
Monitor the changes
Immediately receive an email notification as soon as the page does not become indexable in robots.txt, meta tag or its http status code has been modified. Automatically suggest changes by analyzing competitors and user behavior on your site. Sitechecker focuses its attention also on hacking attacks identifying suspicious redirects and new pages at an early stage.
You can also combine the data of the "Paga Activity" with the Google Search Console to determine what changes have been successful and what should be still modified.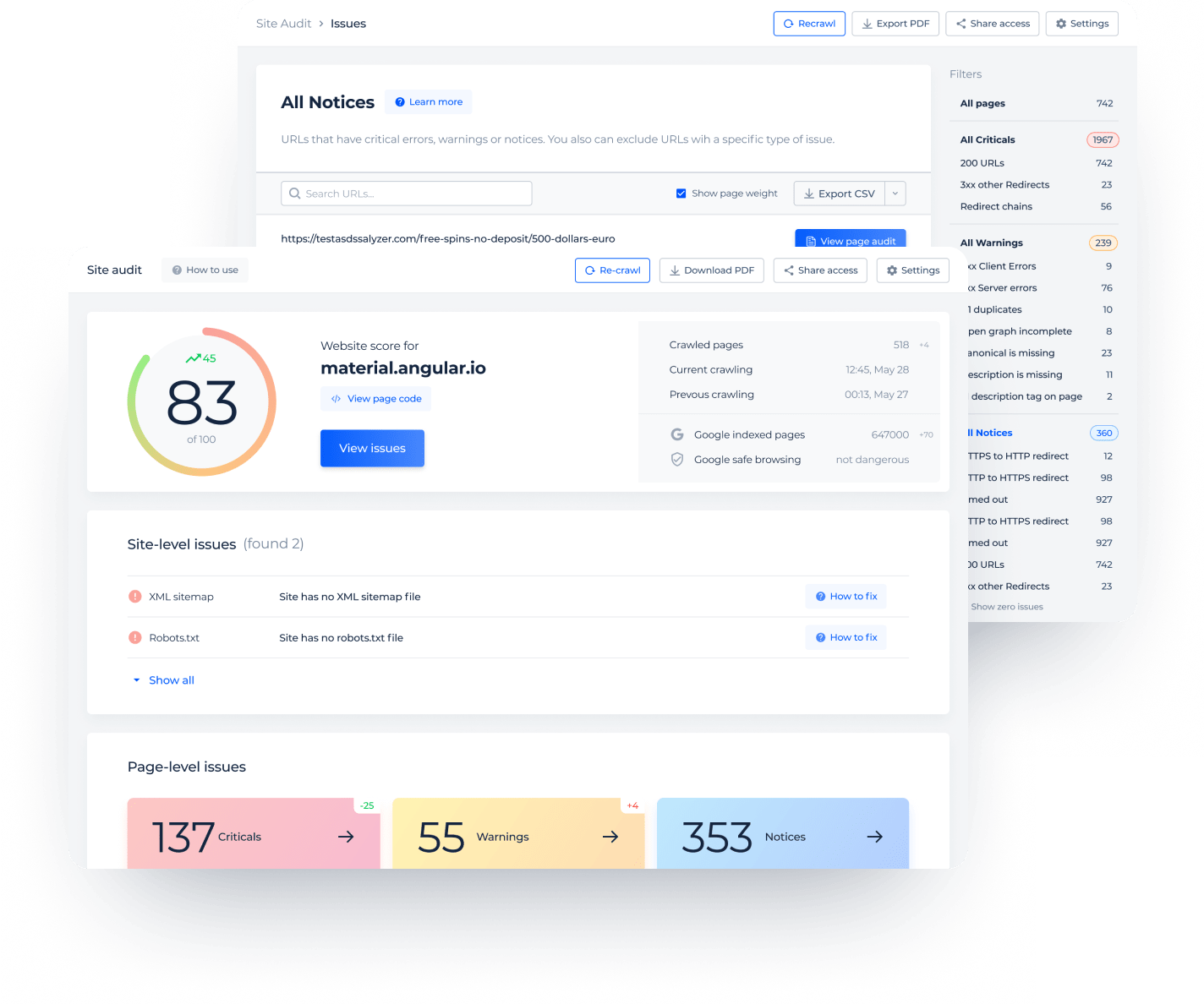 Position Tracker
Regularly monitor website keyword locations and find out which of your actions led to growth. Search for the most valuable keywords for your business and what led you to success. It therefore provides important analysis tools to monitor the performance of your website during the time with precise reports and trackers. Start the climb to the top of the SERP!
Backlink tracker
Monitor and analyze all backlinks you have found or built for the website. 
Be the first to know when the links were lost and bring them back to life. Use simple reports to evaluate the effectiveness of your link building strategy and what you can do to increase its efficiency. It Detects peaks in the appearance of links; find out the reasons and sources for these peaks and how they influenced the search traffic. 
Conclusions
Those described are just some of the useful tools that the site offers, in fact, it also provides customers with a blog and a forum for confrontation. Users who use the service are already thousands and their reviews are largely positive, as well as our after all. 
Start the free trial yourself, you won't be disappointed.